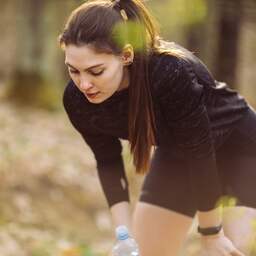 0 comments
08 Jun 2022 at 22:02
Every week we ask a health question to a medical expert. This Week: Does the Way You Breath Affect Your Health? General practitioner Monique Tjon-A-Tsien: "Good breathing balances us physically and mentally."
By: Dorien Dijkhuis
Breathing is simple, right? What can you do right or wrong about that?
"Indeed, we do it thousands of times a day, usually without thinking about it. But one breath is not the same. Because many people are stressed or agitated, they breathe high into the chest."
"Most people also breathe much more often than necessary: ​​more than twelve times a minute. Even when they are sitting on the couch or at the computer. That is the breathing rate when you are walking or even running. Six to seven times a minute is more than enough when you sit."
Why is good breathing good for the body?
"Respiration has an effect on the immune system. Research by Radboud University with, among others, Wim Hof ​​(known for his method to withstand low temperatures, ed.) showed that the immune system can be positively influenced with breathing exercises."
So what happens when we breathe 'right'?
"Then the sympathetic nervous system, the part of the nervous system that is responsible for activity, comes to rest. This system is overactive in the Western world because we are under a lot of stress and hardly take time to relax or sleep well."
"By breathing well, the part of the immune system that is responsible for rest and digestion is activated: the parasympathetic nervous system. Good breathing lowers blood pressure and heart rate."
In addition to calmness, efficient and effective breathing also gives a lot of energy. It makes you feel fitter.
Monique Tjon-A-Tsien, general practitioner
You can't lower blood pressure with breathing, can you?
"Everyone understands that running increases breathing, blood pressure and heart rate. Those things correspond to each other. In fact, if you breathe fast and high, your blood pressure and heart rate also increase. This is partly due to stress hormone levels that remain high. because of wrong breathing. But the good news is that you can calm yourself by taking slow, deep breaths."
"By the way, it doesn't just calm you down. Efficient and effective breathing not only provides calmness, but also a lot of energy. It makes you feel fitter."
What is good breathing?
"Good breathing is effortless, deep and from the diaphragm. Let your diaphragm expand and your abdomen and chest bulge. Research shows that breathing about five to six times a minute is the healthiest for a person. All bodily functions then function optimally."
"Keep track of how many times you breathe per minute. If that's much more than five to six times, do the heart coherence exercise for ten minutes a day: breathe in for five to six seconds and breathe out for the same amount of time."
"Do you want to relax and activate the parasympathetic system? Then inhale for four counts and exhale for six. Hold the breath 'at the bottom' for two counts before breathing in again for four counts."
Do you have to breathe through your mouth or nose?
"Through the nose is better. It has several advantages: the air you breathe there is moister than through the mouth. The nose also has a filter function that catches germs away."
Monique Tjon-A-Tsien is an integral lifestyle general practitioner and general practitioner for heart disease in Wateringen.
Unfortunately this content cannot be displayedWe do not have permission for the necessary cookies. Please accept the cookies to view this content.Change cookie settings 0 comments
Image: Getty Images
---