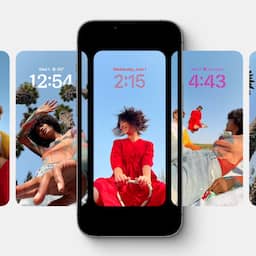 The iPhone lock screen will be overhauled in iOS 16. Apple announced the changes for the new operating system Monday evening during the WWDC developer conference.
Apple presented iOS 16, the new operating system for iPhones that will be released in September. The most important innovation is the access screen. That's the image on the iPhone you see when the phone is locked.
Previously, the time, date and notifications were displayed there. In iOS 16, people can customize the screen to their liking. For example, the font and color of the clock can be changed and widgets can be added, which are interactive information screens that inform users of updates at a glance. For example, you can see at a glance what the weather will be like, what's on the agenda or how far you are with your exercise goal for the day.
There will also be a widget for Live Activities. A widget thus provides live updates, for example about sports matches that are currently being played.
Customize messages in iMessage
Incoming notifications from apps will now appear at the bottom of the screen. In addition, different access screens can be set for different focus modes set by the user. For example, you can set a working environment during the day, while the phone shows a personal background in the evening.
Apple also announces three changes for iMessage. In the chat app, people can adjust sent messages afterwards. They can also be completely revoked and messages can be marked as 'read'.
The Apple event is currently ongoing. This message is being completed.
---