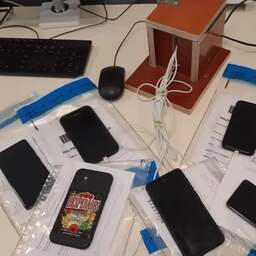 Four men were arrested in Breda on Saturday night. They allegedly stole several phones, bank cards and a watch. A 21-year-old man found his phone again with the 'Find my iPhone' app.
The first two suspects were arrested at John F. Kennedylaan around 2.30 am. The police report that thanks to the 'Find my iPhone' application, which shows where a smartphone is located, the other two suspects were arrested on Oude Terheijdenseweg around 6.15 am. It's probably one group. The suspects are Algerians between the ages of 19 and 24. Two of them are brothers.
A 21-year-old resident of Breda walked to his home around 5 a.m. In the Catharinastraat he saw two men who spoke to him in English and French. "One of those men tapped his feet against the complainant's ankles several times," the police said. "Shortly afterwards, the victim learned that his cellphone had been stolen."
Once at home, the victim searched for his phone with the search application. He could see the smartphone moving towards the station. The man called the police and went to the location himself. There he saw the same men who addressed him earlier. Officers stopped the pair.
"A mobile phone and a bank card were found in the clothing of one of them, which are believed to have been stolen," the police said. The 21-year-old resident of Breda, together with an employee of the NS, searched the bushes and found his phone there. Five other phones also emerged.
Earlier that night, police officers on their bicycles received a report that two men had tried to rob pedestrians in Ridderstraat and Tolbrugstraat. Through camera images, the officers managed to find this duo: 'One of the officers just saw that one of those men put a watch and a bank card on the foot of a statue.' The two suspects were arrested. It is not yet clear who owns the items.
The police report that three victims have already been spoken to. A 24-year-old man from Dorst told the police that his phone was stolen in Breda when he and other pedestrians saw how an unwell person was taken by ambulance. In the morning he was surprised to see via 'Find my iPhone' that his telephone was at the police station in Breda. His stolen debit card had already been debited five times.
Police warn to be alert when going out.
---