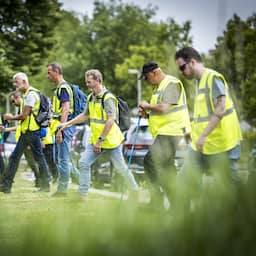 On Friday evening, the police cordoned off part of a parking lot and a playground at Vincent van Goghplein in Kerkrade in the investigation into the missing nine-year-old boy Gino. According to the police, civilians have found "something that may be related to the missing person" and detectives are currently investigating.
In front of the forest are some members of the Veterans Research Team, a foundation that provides support to the police during searches for missing persons. Both of Gino's sisters came on Friday evening to watch the investigations of the forest.
A police helicopter also flew over the area for some time around 8.30 pm.
Boy missing since Wednesday evening
Gino, who actually lives in Maastricht, disappeared Wednesday evening in Kerkrade, where he was staying with his 32-year-old sister, because his mother was ill. According to another sister, who is 21, the boy went to play football on Wednesday evening at a playground in Kerkrade, near his place to stay. He should have been back by 7:30 PM, but he's been missing since then.
An amber alert was sent during Thursday. The boy is in life-threatening condition, police said. The German police have also been informed about the disappearance of Gino. Kerkrade is located on the Dutch-German border.
---