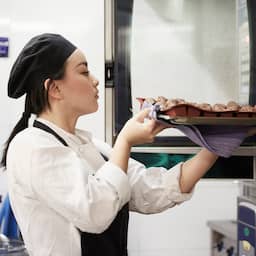 The new Michelin stars will be awarded on Monday in the DeLaMar Theater in Amsterdam. Such a star is the largest globally recognized award for restaurants with excellent cuisine and excellent service. How do you get a star as a restaurant? And what impact does it have?
A restaurant can earn a maximum of three Michelin stars. The Netherlands currently has 2 restaurants with three Michelin stars, 18 with two stars and 93 with one star.
Its value is expressed in 'departure time'. Tire manufacturer Michelin started doing this in 1957, to point drivers in a Michelin guide to good restaurants and hotels and thus stimulate car use.
– A star: the cuisine is high quality and worth a stop.
– Two stars: the cuisine is of excellent quality and worth a detour.
– Three stars: the cuisine is of exceptional quality and is considered a travel destination in its own right.
Werner Loens, Michelin Guide Director for the Benelux, informs NU.nl that all so-called Michelin inspectors use the same criteria to assess a dish. The quality and taste of the products are examined, as well as the competences and creativity of the chef in the use of the ingredients. Also, the level of the dish must be constant at all times of the day. If you score worse than before, you can lose a star.
The inspectors do not take any chances: each restaurant is visited several times. Being a Michelin inspector is a full-time profession. Inspectors are assigned a region every three months in which they visit restaurants. An inspector never visits the same restaurant twice in a three-year period. A restaurant is therefore visited at least four times a year by different inspectors before it receives a rating.
All inspectors are employed by Michelin and behave as regular customers. So they are anonymous. With a multi-course menu, all courses are tasted and with an à la carte menu, a starter, main and dessert are ordered.
Which restaurants qualify for a Michelin star is decided once a year at a secret meeting with all inspectors. How many inspectors there are is also a secret, says Loens.
The more prestigious the restaurant, the more 'international' the rating. When awarded one Michelin star, the restaurant was assessed by Michelin inspectors from the same country. When awarding several stars, inspectors from abroad also assessed the restaurant over a period of five years.
In short: you don't just get a star and chefs regard a Michelin star as a prestigious recognition and appreciation for their profession. This not only results in extra guests, but often also staff. A spokesperson for Koninklijke Horeca Nederland informs NU.nl that a Michelin rating also plays a role in attracting employees, because gaining experience in a star restaurant is seen as an important step in the career of many chefs and hosts.
But such a star is not just a rose scent, it can also create extra pressure for chefs. After all, you (usually) want to keep such a star. French economist Olivier Gergaud said in 2020 in the watchword that the turnover of a restaurant after the award of a Michelin star increases by 80 percent in three years, but the profit does not grow or hardly grows. As a result, restaurants are in the red.
Hospitality Management had an explanation for this in 2010, which may still make sense: the higher a restaurant scores, the more luxurious and of higher quality the ingredients must be in order to retain the star(s). These products have a higher purchase price and these costs cannot be passed on to the guest one-on-one. The restaurant may attract new guests, but due to the price increases it may also lose some of its trusted guests and may eventually even become loss-making.
As a restaurant you cannot refuse a star. Loens: "The service we offer is for consumers, not for restaurants."
However, according to the spokesperson for Koninklijke Horeca Nederland, there are star restaurants that consciously adjust their style and menu, so that they no longer qualify for a star in the next guide.
At lunchtime on Monday you can read on NU.nl which restaurants have won (or lost) a Michelin star this year.
Other Michelin Awards
Green star: awards restaurants and chefs who work with sustainable growers, fishermen and farmers and who produce as little waste as possible and avoid plastic products. The Michelin sign: this is an award for restaurants and skilled chefs who work with high-quality products. The Bib Gourmand: at restaurants that have been awarded this prize, you can eat three full courses of your choice for about 39 euros.
---