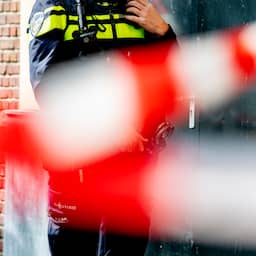 Just after 2.30 am on Saturday night, shots are heard in the Sleedoorn in Poortugaal. In the usually quiet street, a house comes under fire. No one was injured, a police spokesman said.
In the night from Friday to Saturday things go wrong in the Sleedoorn. The 37-year-old resident is startled by two loud bangs. She remains unharmed. When she goes to see what happened, she sees that her front door has been shot. When the police examine the damage at the house, a casing is found on the street.
On Saturday afternoon, the shooting is the talk of the day in the street in Poortugaal. The only thing that reminds us of what happened that night are the two bullet holes in the glass of the front door of the house. The shutters are closed. It is the only house with a camera on the facade.
Big contrast
It is a big contrast with the flowers in bloom in the garden, the children playing in the street and the many elderly people walking through the street. Here in this street it is pleasant, people still greet each other. At the end of the cul de sac is a playgroup. There are large detached houses and some terraced houses.
A little further from the affected home, two neighbors are outside. They didn't get anything from the unrest last night, they say. "It's a very quiet street," says one of them. The last time he experienced anything was more than a decade ago, says the other. "Then a drug lab was closed down. Nothing else ever happens here." The police rang the doorbell at noon to ask if they had any information about what happened.
Some neighbors prefer not to lose anything, just like the resident herself. It is unknown what led to the shooting. It is also unclear whether one or more gunmen are involved. The police are investigating and are calling on witnesses to come forward.
---