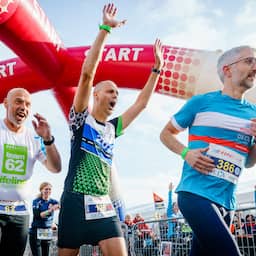 About 220 teams will be at the start of the 31st edition of the Roparun next Saturday. This year the event will take place entirely in the Netherlands. The participants start in Twente and end on Whit Monday on the Coolsingel in Rotterdam. The relay race raises money for charity.
In the past, teams from the French capital Paris and the German city of Hamburg left for the finish in Rotterdam. It was previously decided to keep the course in our own country because of the corona pandemic. The teams will depart from the event site of Twenthe Airport and run non-stop to Rotterdam in a relay for two days.
Coolsingel is 'the place where it belongs'
"In several ways we are very happy that we are really allowed again," says Roparun director Gerard Bakx. "After a number of difficult corona years, a full event can now take place for the first time during Pentecost."
During the previous editions, the finish was on the Binnenrotte because of the redesign of the Coolsingel. But Bakx is happy that the finish is back in the old place. "The place where it belongs", says Bakx. "The Coolsingel is the place where we should finish."
90 million euros
The Roparun is a non-stop relay race that has been organized since 1992. Since then, about 90 million euros has been raised to make the lives of people with cancer more bearable. In October 2021, the thirtieth edition of the Roparun raised more than 2 million euros.
In record year 2019, 340 teams raised 5.6 million euros. That was the last edition before the corona pandemic started.
---