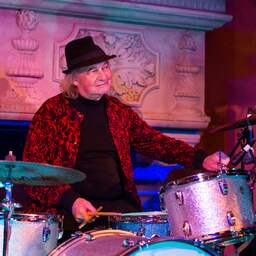 Alan White, the drummer of pop group Yes, died Thursday in the American city of Seattle. His family made the announcement on Facebook. He was 72 and died after a short illness.
White was born in England in 1949. He started playing drums when he was thirteen. In the 1960s he played with artists such as Billy Fury, Alan Price and Ginger Baker.
In 1969 John Lennon asked him to play in his Plastic Ono Band. White played on the albums Live Peace in Toronto and Imagine. Through Lennon, White came into contact with George Harrison, whom he assisted as drummer on the album All Things Must Pass.
His career with Yes began in July 1972, when he replaced Bill Bruford, who had left the band. He was able to go on tour right away and has been Yes's regular drummer ever since.
In the Netherlands, Yes scored hits such as Roundabout (1972) and Owner of a Lonely Heart (1983).
---