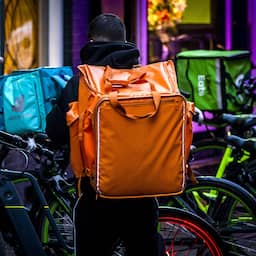 Deliveroo and Uber Eats are not transparent about extra costs and make the range of restaurants much larger than it actually is. In turn, home delivery cannot live up to the guarantee that a meal is never more expensive than directly at the restaurant. The Consumers' Association concluded this after an investigation on Wednesday.
Companies are legally obliged to clearly state in advance how much service costs a customer must pay when making a purchase. With Uber Eats and Deliveroo, however, these only become visible just before the checkout, and that is not allowed according to the Consumers' Association. "It should be immediately clear how much you have lost," says the Consumers' Association.
In addition, Uber Eats, and Deliveroo also to a lesser extent, would show an excessively large selection of restaurants. For example, the app shows everything within 30 kilometers, making it seem as if you can choose from more than 160 Indian restaurants in the center of Amsterdam. In reality there are fourteen, eight of which are in three adjacent buildings and are owned by the same owner. So in the end there are only eight Indian restaurants.
Deliveroo also sometimes shows properties at the same address, according to the research.
Home delivery is transparent about the costs, but does not always live up to its price guarantee. The company claims that a meal via the app is never more expensive than when you get it directly from the restaurant, but in almost half of the cases that turned out to be wrong.
The Consumers' Association has shared the findings with the Netherlands Authority for Consumers & Markets. The companies involved were not yet able to respond immediately.
---