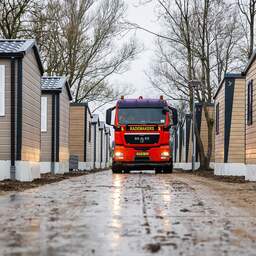 Asylum reception continues to be a struggle for the cabinet. The problems in Ter Apel continue and a structural solution is still a long way off. The cabinet now wants to see what is possible within the current legislation, but even using one's own real estate seems to be a complicated task.
The cabinet has recently investigated what they can do in the short term to relieve the Ter Apel application center. It has been overcrowded there for weeks, so there are regularly not enough beds.
A major reason for the full reception is that about thirteen thousand of the 39,000 reception places are occupied by asylum seekers with a residence permit (status holders). They should actually move on to a home, but this is not possible due to the large shortage. Municipalities are given a target every six months for housing status holders, but are lagging behind enormously. According to Minister Hugo de Jonge (Public Housing), this is also because some municipalities give priority to other home seekers or focus groups.
De Jonge now wants status holders to get a home more quickly. He calls on provinces to point out to municipalities that they are lagging behind in meeting their targets.
Whether this will help much remains to be seen. If municipalities continue to indicate that they have no houses, the province can, in extreme cases, even take over the task of the municipality and, for example, designate a hotel for the reception of status holders. This is possible within existing legislation. Nevertheless, De Jonge thinks and hopes that it will not come to that.
Cabinet also wants to claim its own vacant real estate for asylum reception
In addition, the cabinet wants to receive asylum seekers in its own real estate that is empty, for example an old tax office or a barracks. At the moment, this is still happening in consultation with municipalities, but some discussions are going "stiff", according to De Jonge.
There are about a dozen buildings in the picture. Depending on how the buildings are arranged, this amounts to approximately a minimum of 2,500 and a maximum of ten thousand places.
But before a building, even if it belongs to the government, can be used as a shelter, the location must have the correct zoning plan and also have a permit. In principle, the municipality is responsible for this, but if they do not cooperate, the government can also do this itself, according to De Jonge. The granting of a permit by the government only takes longer and changing the zoning plan by the government is even "much more complicated".
If a location already meets both conditions, the reception can be arranged in "a few days to a week", De Jonge believes. This is the case with a few buildings. The minister was unable to indicate exactly how many locations were involved.
In the long term, there must be a law in which municipalities are given the task of offering locations for asylum reception. State Secretary Eric van der Burg (Justice and Security) expects this to be settled only at the end of this year or early next year.
State Secretary is in concrete talks with one municipality about application center
The State Secretary also wants to open a second and preferably even a third and fourth registration center, so that not all the pressure is on Ter Apel. At the moment, the cabinet is "talking very concretely with one municipality" about such a location.
It is not yet entirely clear when a new center can open its doors. Van der Burg does not want to give any further information about the location. The state secretary first wants to complete all talks with the municipality.
---