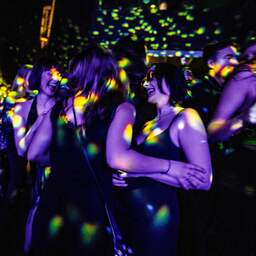 Recently, there have been several reports of people who think they have been drugged with a needle while going out. In the Netherlands, however, the so-called 'needle spiking' has not yet been confirmed in any case. The Trimbos Institute has many questions about the stories, but "if something isn't proven, it doesn't mean it doesn't happen."
In Kaatsheuvel, six people reported to the emergency department last weekend because they thought they had been drugged with a needle during a party. That could also have happened to fourteen footballers who have become unwell in Belgium. Lately, a lot of stories like this have emerged in which people think they have been victims of needle spiking. But evidence for this is as yet lacking.
So far, no case has been confirmed in the Netherlands, the police said when asked. In Belgium, the investigation into the football team is in full swing. Puncture injuries have been found in a few football players, says a police spokesperson. An investigation should show whether this is because they were pricked with a needle that evening. In any case, the first investigations do not indicate that the football players have been drugged.
It is striking that similar stories already surfaced in the United Kingdom at the end of last year. When the clubs were allowed to open again after the lockdowns, stories about needle spiking also went around. So far, there has never been any evidence that anyone was really drugged with a needle.
Research should clarify what is going on
Whether there really is needle spiking in the Netherlands, or whether it is a fake story, is now part of research. "In the coming weeks, we want to look at what kinds of reports we have received and what we see," explains a spokesperson for the police force management.
For example, the police look at what else has come in besides the report about drugging, for example a sex crime, assault or robbery. The question is what a possible motive for the attacks is.
In addition, the police is looking at the extent to which it can really be established that something has been administered to people who are suspected of having been drugged. "All things that give us more insight into what we see now."
'Important to take reports seriously'
According to the Trimbos Institute, this is the first time that needle spiking has been reported in the Netherlands. But there are still many question marks about the institute. "All we know so far is that no evidence has been found," he says. "The tricky part is that if something isn't proven, it doesn't necessarily mean it didn't happen."
That someone does not feel well while going out can also have other reasons. "We see that people sometimes underestimate how alcohol can fall, especially after corona; people have not been out for a long time. Especially if you are sick, tired, menstrual or suffer from stress, alcohol can go wrong and the effects can be negative. resemble those of drugs."
It is important to take the reports seriously, the spokesperson emphasizes. "If people have the idea that they have been drugged, that is very intense. If you have the feeling that something has happened to you, it is important to involve the staff and report it."
---