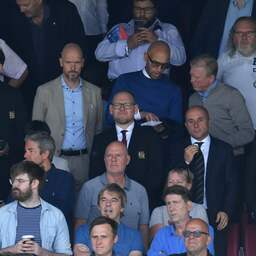 Manchester United confirmed on Monday that Mitchell van der Gaag and Steve McClaren have been appointed as assistants to new coach Erik ten Hag. It is not known for how long the pair have been signing.
It had been known for some time that Van der Gaag and McClaren were important candidates to assist Ten Hag at Old Trafford. Fred Rutten recently said that he had also been approached by the Haaksbergen resident, but he chose to stay in the Netherlands as an assistant to Ruud van Nistelrooij at PSV.
Van der Gaag, who was seen in the stands with McClaren during the Manchester United game against Crystal Palace (1-0) on Sunday, was already in the technical staff of Ten Hag at Ajax this season. The former trainer of Excelsior and NAC Breda, among others, stood for two years in front of the group of the Amsterdam team's promise team.
In McClaren, Ten Hag has an assistant who is familiar with English football. The former FC Twente coach was already part of the coaching staff of Manchester United between 1998 and 2001, then as the right-hand man of Sir Alex Ferguson.
McClaren was the head coach of Middlbesbrough, Derby County, Newcastle United, Nottingham Forest and Queens Park Rangers in England. The Englishman was also England national team coach for a year. Ten Hag still functioned as McClaren's assistant at FC Twente in the 2008/2009 season.
Ten Hag recently signed a three-year contract with Manchester United. He succeeds Ralf Rangnick, who has held the honors since the resignation of Ole Gunnar Solskjaer in November last year. The German will be technical adviser to United next season, which will play in the Europa League next season.
---