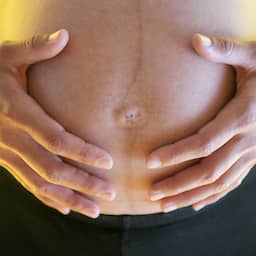 0 comments
May 22, 2022 at 06:40
The 'non-invasive prenatal test' (NIPT) is intended as a screening test to detect Down, Edwards or Patau syndrome in unborn babies. There may also be other things, such as a suspicion of cancer in the woman. What's up with that?
By Maartje Scheffer
PhD student on this study and medical oncologist in training Karin Heesterbeek: "Maternal cancer is an incidental finding that regularly comes from the NIPT: something that deserves more research. We have been able to demonstrate which NIPT results are suspicious for cancer, and which follow-up steps are needed. to get clarity and appropriate treatment as soon as possible."
This was investigated as part of the national TRIDENT-2 study, Heesterbeek and laboratory specialist clinical genetics Merryn Macville say.
Listen here to the latest podcast of Ouders van Nu: Miscarriage Monologues.
NIPT is not a cancer test
Heesterbeek and Macville clarify that the NIPT was not developed to detect cancer. "It is definitely not a cancer test, so follow-up research is always necessary. Keep in mind that cancer occurs during pregnancy in 10 out of 15,000 women, but in 3 out of 15,000 NIPTs there is a suspicion of cancer. In 1 out of 15,000 NIPT -and after further research is really diagnosed cancer."
"Two out of three women who had an indication of cancer were therefore unduly worried. That has now been improved by our research, because we can now better assess a suspicion," says Macville.
Chromosomal Abnormalities
In an NIPT, a blood sample from the pregnant woman is examined for genetic material (DNA). It also contains some DNA from the placenta. In this way, it is possible to look for chromosome abnormalities in the baby, such as Down syndrome. "If you have cancer, in addition to the DNA from the placenta, DNA from cancer cells can also be present in your blood. The chromosomes of cancer cells can deviate very much from healthy cells, and you can sometimes see that with the NIPT," says Heesterbeek.
It is also becoming increasingly clear which NIPT results should be reported with suspected cancer. "We have more and more control over which cancer types, such as lymphoma, correspond to patterns of abnormalities in the chromosomes. This allows us to use increasingly targeted follow-up research," says Heesterbeek.
NIPT even more exciting
Won't a NIPT be even more exciting for a pregnant woman than it already was? "Perhaps a little, after all, in addition to a chromosomal abnormality in your baby, you can also discover something in yourself. But don't let your nerves stop you from doing the test. The chance of a abnormality in you is very small, and if there is something is found, it's better to get there as early as possible," Macville says.
If cancer is detected in the mother, it can usually be treated well during pregnancy, without risk to the baby. "Within the TRIDENT-2 study, an investigation is also underway into the mental consequences for the mother whose baby or herself has chromosomal abnormalities with the NIPT," the researchers say.
The article about the study is April 8 in the Journal of Clinical Oncology published.
Image: AFP
---