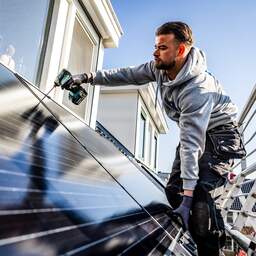 Almost 6000 houses in Gelderland are being made more environmentally friendly with money from the province. Thirty housing associations will receive a total of 20 million euros. The housing associations themselves are jointly investing 200 million euros.
The money will be spent exclusively on refurbishing social housing. In the houses, the floors, roofs and walls are insulated, among other things. Solar panels will also be installed and the homes will be prepared for heat pumps, a spokesperson said.
Examples of neighborhoods that receive funding are the Grote Beer in Ulft (56 homes), the Touwslagersbaan in Genkoppen (64 homes), the Schipholplein in Arnhem (200 homes) and the Wolfskuil in Nijmegen (130 homes).
When the projects are completed, most homes will have energy label A or higher (very low energy consumption). Now in most cases that is D or E (respectively average and fairly high energy consumption).
Marco de Wilde, director of the Eden housing corporation Woonstede: "We think it is very important to make our houses more sustainable. It contributes to a lower energy bill for our tenants. They can use that very well in these expensive times."
The same tenants should not have to pay more because of the projects. The province sets this as a condition for co-payment. "Housing costs should not increase after the adjustment of social housing," says deputy Jan van de Meer.
---