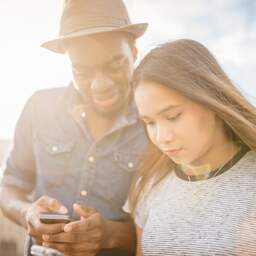 Privacy is a great thing, so it's not wrong to consider the enormous amount of data that some apps collect about you. With this tip you will discover what you reveal when you use WhatsApp.
WhatsApp is by far the largest chat service in the Netherlands: it seems as if almost everyone in our country uses the service. In 2014, the chat service was acquired by Facebook, now known as Meta, for $16 billion (almost 15.4 billion euros). WhatsApp was promised that it would continue to operate independently.
Anyway, a lot of information about you is stored by owner Meta. If you want to know what they keep, you can submit a request to receive the entire file. In order to comply with the well-known General Data Protection Regulation (GDPR), a company must give you access to your personal data and the way in which it is processed.
No chats in the dates
First this: there is no chat history between this data. The conversations you have are in fact well protected with end-to-end encryption, so that only you and the recipient can see the messages. WhatsApp can therefore not read your conversations.
That is good news for your privacy, but you cannot request a log of all your conversations from WhatsApp. Incidentally, there is an option in the app to export your entire chat history.
What information can you request?
Your messages are therefore safe, but Meta does have insight into a lot of metadata, i.e. information about your data. This not only concerns, for example, your name, telephone number and how long you have been using the app, but also your current and previous IP addresses, the type of telephone you use and the places where you have logged in with WhatsApp Web.
In addition, you get a list of all your contacts, although only the phone numbers and not the names are collected. You'll also see all the group chats you've ever been in, including the associated descriptions and images of these groups. In addition, WhatsApp keeps track of all your privacy settings, plus a list of phone numbers you've blocked.
That's how you ask
Requesting your data is done via the WhatsApp app itself. Go to the settings and select 'Account' and then 'Request account info'. Here you will find the option 'Request report'.
Meta then needs about three days to prepare your report. When it's there, you'll get a notification on your phone. In the same place in the settings, the option 'Download report' will appear.
The data is packed in a zip file, which is probably not very convenient to open on your smartphone. The best solution is to email the file to yourself and then open it on a PC or laptop. The report isn't terribly long, but it does contain all stored metadata about you. It is of course always good to be aware of the information you share with companies.
We do not have permission for the necessary cookies. Please accept the cookies to view this content.
---