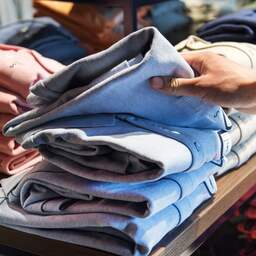 A journey through innovation and reuse in the field of textiles. In Textour you can see with your own eyes how rags turn into socks, how refugees portray their experiences. It is the prelude to a major festival that is to take place in Tilburg in two years' time.
Tilburger Joris van Riel, organizer of Textour, is bursting with enthusiasm when he explains what the event entails. "We want to contribute to a change of mindset in both the industry and the consumer", he argues, "Now companies make a product that people buy, and then throw away after use. The goal is to make textiles a circular industry, in which all raw materials can be reused. When most people think of textiles, they mainly think of clothing, but it can also be found in mattresses, for example. These can also be collected and extracted so that something new can be made with the materials. It concerns natural materials and plastic fibres. Texture shows innovations in that area."
This year is the second time that a Textour is organized. Last year it was downtown. This year in Oud-Noord, including in Café Mimi at Wilhelmina Park, behind windows of buildings on Smidspad, and on the grounds at the back of the Textile Museum. Van Riel managed to bring together 25 participants. From Fontys Hogeschool and workwear maker Tricorp to a Tilburg company like Refurbkicks, which recycles sports shoes.
Contribute to artwork
Artists also show works that they have made with textiles. Visitors can even help build a work of art that De Nieuwe Zonderlingen are creating behind the Textile Museum. At each point there is a QR code with which hikers can retrieve additional information. In Café Mimi they can participate in a study by Fontys about the influence they can exert on the textile industry.
"Texour is literally a movement into the future," says Van Riel. "With another edition next year around the Piushaven, we are working towards a major festival in 2024, Textilium Futura. This will cover the entire city for a year. It will present sustainable developments around textiles, such as improved production forms, new applications and new techniques that ensure more reuse and recycling and less production loss."
In addition, the intention is also to give attention to new works of art and young artists. "The festival allows the general public to see, feel and smell the developments of the entire textile industry up close, and seeks to connect with business and consumers. The ultimate goal is to make a sustainable contribution to a circular textile industry together."
---