The spectacular action film Rampage: Big Meets Bigger (2018) is available today on HBO Max. The lead role in the film is played by Dwayne Johnson. Johnson takes on the role of stoic primatologist Davis Okoye, who has been caring for the intelligent gorilla George for years.
Davis and George bond until a genetic experiment puts a brutal end to it. The friendly monkey turns into a furious creature of enormous dimensions. And George isn't the only one who has changed: countless animals have quickly become alpha predators of sorts. The animals are on a rampage and the entire continent is turned into utter chaos. Okoye goes in search of a cure with a geneticist, but that is not a harmless mission…
In addition to Johnson, Naomie Harris, Malin Åkerman, Jeffrey Dean Morgan, Jake Lacy and Joe Manganiello also star in Rampage: Big Meets Bigger. The movie is directed by Brad Peyton. It was based on a screenplay by Ryan Condal, Carlton Cuse, Ryan Engle and Adam Sztykiel.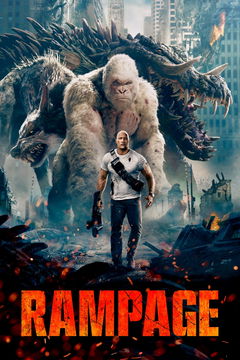 6.1
Rampage: Big Meets Bigger (2018)
Watch HBO Max • Aloof primatologist Davis Okoye (Dwayne Johnson) has a close relationship with George, the extraordinarily intelligent silverback gorilla he's been caring for since birth.
Rampage: Big Meets Bigger is now on HBO Max. The film can also be viewed via Pathé Thuis and Ziggo On Demand. The full range of HBO Max can be found here.
Image: Still 'Rampage: Big Meets Bigger' via TMDb
---