To not miss any African news, subscribe to the newsletter of "World Africa" from this link. Every Saturday at 6 am, find a week of news and debates treated by the editorial staff of "Monde Afrique".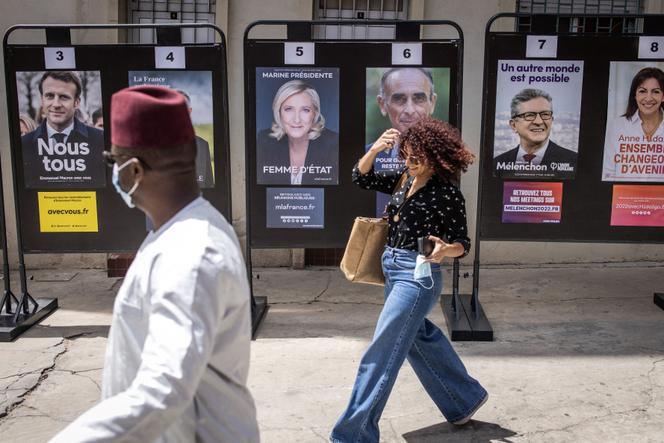 In Dakar, in front of the polling station of the French Embassy in Senegal, April 10, 2022. JOHN WESSELS / AFP
Etienne Smith is a researcher at the Institute of Political Studies (IEP) in Bordeaux. He is the author ofa study published by the Center for International Research (CERI) in April 2020 on the "transnational electoral dynamics" in the ninth constituency of French people abroad, which brings together the countries of North Africa and West Africa.
While Marine Le Pen collected, during the second round of the presidential election of April 24, rather high scores in certain seaside pockets of this region – 27.85% (Agadir), 33.51% (Djerba), 38.6 % in Saly –, Mr. Smith offers in an interview with World Africa deciphering elements of a vote that he describes as "heliofrontism".
In your work, you coined the formula "heliofrontism". What content do you give it?
Etienne Smith I was inspired by the literature on migrations where certain authors speak of "heliotropism" to evoke these, in particular those of the seniors towards the countries located more in the South. At first, it was more British or Scandinavian in Spain and Portugal or Americans in Mexico or Europeans in the Dominican Republic, Thailand, etc. Finally, the French in Morocco or Senegal.
It therefore comes from this work on the "tropism" of retirees from the most developed countries towards the countries of the South. They are in search of a better quality of life, marked in particular by the search for the sun and a seaside environment. My expression "heliofrontism" also refers in the form of a nod to what was the historical geography of the National Front (FN) on the Côte d'Azur, which is duplicated abroad, in more "low cost" mode », in favor of global inequalities in development.
You have studied the electoral attitude of French people registered in the ninth constituency, which covers North Africa and West Africa. What are the main sociological profiles?
It is a numerically significant French community which is not homogeneous. We have rather archipelagos, microcosms which do not necessarily frequent each other. Their sociological profiles are different. We can identify four of them. The first is that of retirees, seniors, settled since the end of the 1990s. They are found in certain seaside pockets such as Saly (Senegal), Djerba (Tunisia) and Agadir (Morocco). It is, as Anglo-Saxon researchers describe it, a "lifestyle migration", a migration for a lifestyle.
You have 65.42% of this article left to read. The following is for subscribers only.
---