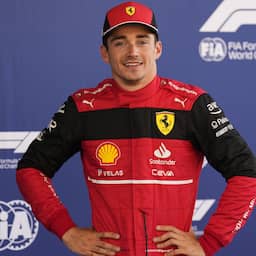 Charles Leclerc is hopeful that he can keep Max Verstappen behind him at the Grand Prix of Spain on Sunday. The Monegask took pole position on Saturday at Circuit de Barcelona-Catalunya and trumped Verstappen (second) in qualifying.
"Conditions were not easy," Leclerc, who was still spinning at the start of Q3, told F1TV. "Because of that mistake I only had one chance to get a good lap, so the pressure was on. Fortunately I was able to finish it."
Because Leclerc had spun and therefore had not recorded time, he was still in tenth place at the start of the final minute of qualifying. The World Cup leader then completed a clear round and was by far the fastest. Carlos Sainz finished in third position.
Leclerc had to leave the victory to Verstappen in the last two Grands Prix and suffered a lot from tire wear, especially in Miami. "Managing the tires will be the deciding factor tomorrow," said the Ferrari driver.
"In recent races we have seen that tire wear is one of the weak points of our car, especially compared to Red Bull. We have completely changed the car after yesterday's practice to ensure that tire wear is limited as much as possible."
Ferrari is one of the few teams to complete long runs during training
Unlike most other teams, Ferrari went through long runs during the third practice on Saturday morning to test whether the adjustments had the necessary effect. "This morning it looked a lot better than yesterday, but we don't know to what extent the others have also adjusted things. We will have to be at our best to win."
The Spanish Grand Prix, the sixth race of the Formula 1 season, starts at 3 p.m. on Sunday. Leclerc defends a nineteen point lead over Verstappen (104 to 85) in the championship.
Log in for additional background articles
---