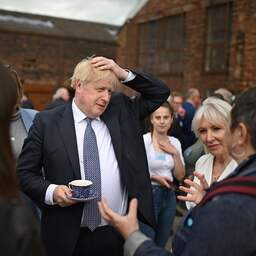 Boris Johnson has come under further fire for another riot in the 'party gate' scandal. It was revealed on Friday that the British Prime Minister met more than a month ago with top official Sue Gray, who was investigating drinks and parties by government employees at times when strict corona rules applied in England.
The meeting sparked outrage among the opposition.
"Johnson urgently needs to explain why he had a secret meeting with Gray to discuss her report, while claiming that her investigation was completely independent," said Angela Rayner, deputy Labor leader. Top civil servant Gray was instructed by Johnson himself to investigate the case.
Sky News reports that Johnson and Gray met to discuss the progress of the investigation. According to BBC News, Gray had requested the call to "clarify her intentions" about what will happen after the police investigation into 'partygate'.
The conversation included the publication of photos in Gray's final report, according to BBC News. Her spokesperson denies these claims, Sky News reports. Johnson's office also says that the prime minister did not initiate the conversation and furthermore did not try to exert influence.
Report may be public next week
The top official already shared her critical findings about 'party gate' at the end of January, but the full report was not published due to the then ongoing police investigation. On Thursday it was announced that the police investigation was finished. British media report that the long-awaited report may be made public next week.
The police investigation found that government employees had not adhered to the corona rules during eight meetings between May 2020 and April 2021.
One of the total of 126 fines went to Johnson for attending a gathering on Downing Street for his birthday. Johnson's wife Carrie and Finance Minister Rishi Sunak were also fined for that reason.
---