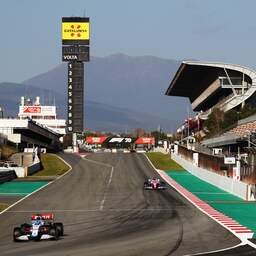 Now that qualifying is over, our Formula 1 reporters Patrick Moeke and Joost Nederpelt can make a prediction for Sunday's race. What do these experts think? And what do you think? Shine your light on our reaction platform NUjij.
Patrick: "Although Max Verstappen would of course have preferred to be on pole, I expect that he will win tomorrow in Barcelona. The Dutchman was by far the fastest during the free practice sessions in the long runs and suffered the least from tire wear. Ferrari had the best performance there. In recent races, I do not expect it to be any different with the high temperatures tomorrow. Verstappen wins, Charles Leclerc finishes second and I see George Russell take a podium place."
Joost: "It is very difficult to predict this race, but I still assume a victory for Verstappen. Ferrari has worked on its tire wear, but I don't believe it can solve this in a weekend. If Verstappen Leclerc at the If he doesn't take the start, I'm assuming he will have a strategic advantage later in the race to take the lead."
Can't find the comment section? Click on the 'comments' button at the top or bottom of this post to go to the comments. You can leave your comment or comment there.
---