Max Verstappen came into action twice in Spain on Friday with his Red Bull RB18. To see how the day went for the reigning world champion, we list all the relevant figures and compare them with the times of his main competitors. This is how Verstappen's day in Barcelona went.
First free practice
Verstappen's first practice session started with two runs on the hard tyres, the fastest lap he clocked was a 1.21.876. These runs seemed mainly intended to see how the balance was and how the weight savings on the car worked out. Verstappen was faster than Charles Leclerc on 'hard', because he did not go further than a 1.22.764 on that rubber.
After these runs, Verstappen switched to the soft tires. He was immediately quick: after his lap from the pits, the Dutchman clocked a 1.20.164.
That time related to the competition as follows
Leclerc: 1.19.828 Sainz: +0.079 Verstappen: +0.336 Russell: +0.762
Long runs on the soft tires
After trying to set a fast time, both Verstappen and the two Ferrari drivers focused on a series of laps on the soft tires. All three clocked five representative laps, from which the following averages emerged.
Race pace on soft tires
Verstappen: 1.25.897 Leclerc: 1.25.670 Sainz: 1.25.636
Not much can be deduced from these simulations yet, because the track is still quite 'green' in the first training, which means that there is still little rubber on it. In addition, it is always unknown with how much fuel and in which engine mode the teams are driving. Therefore, the long runs on the medium bands in the second free practice are more representative.
Max Verstappen on his way on the soft tires in Barcelona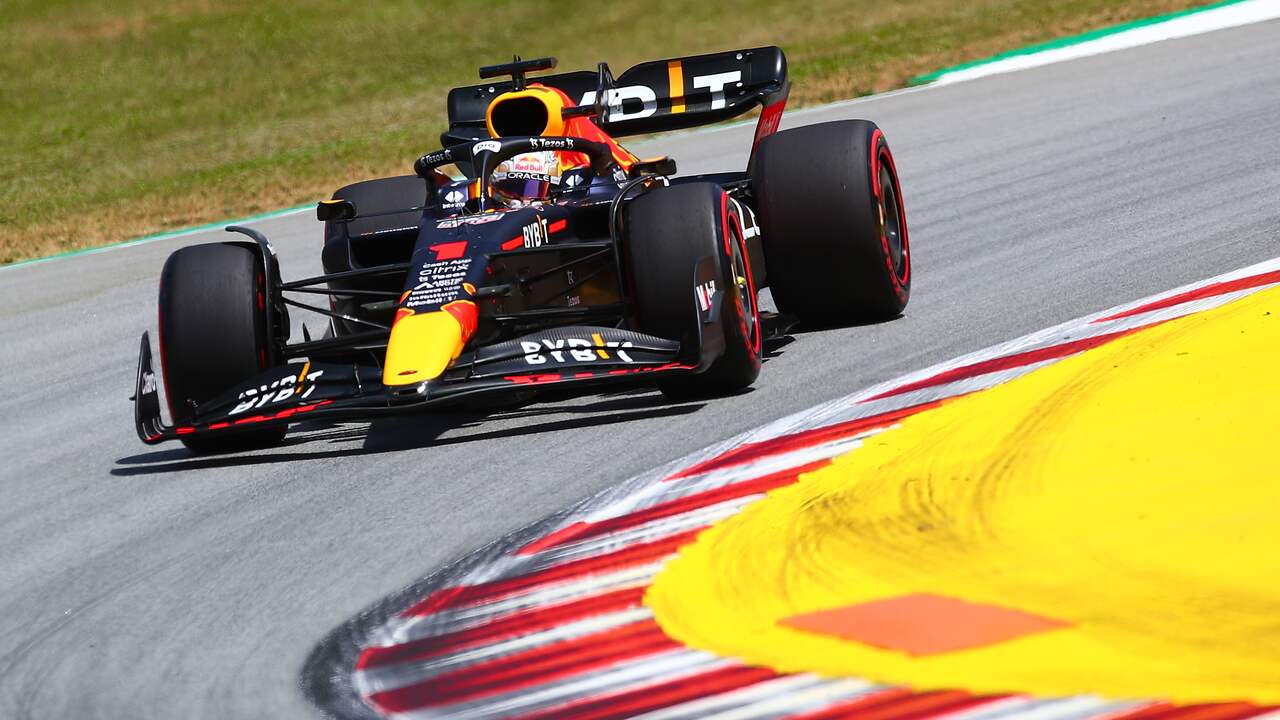 Max Verstappen on his way on the soft tires in Barcelona
Photo: Getty Images
Second free practice
The second practice told a different story, especially about the race speed that Verstappen managed to put down. The Dutchman was considerably faster than World Cup leader Leclerc on medium tires.
Mercedes turned out to be a party to be reckoned with in this regard, although a blow is necessary: ​​in Miami the team of Hamilton and Russell also had a good Friday, but then the pace dropped.
Average lap time race simulations on medium
Verstappen: 1.26.0 Leclerc: 1.26.6 Hamilton: 1.26.5 Russell: 1.26.6
Conclusion
The last two races, Verstappen was very strong on the medium tires, and the Dutchman also managed that well in Barcelona – which is known for being tough on the tires.
There are a few ifs and buts. The Red Bull was clearly less successful on soft tires, which Verstappen had also noticed. So his team may be able to give up some of the race pace to be faster in qualifying. Overtaking is difficult in Barcelona, ​​so the starting position is important.
In addition, it remains to be seen to what extent Ferrari allowed itself to be looked into. The car of the Italians was considerably modified, much more than the Red Bull. So it wouldn't be strange if, after an evening of data analysis and work in the simulator, steps could be taken by Leclerc and Sainz.
But Verstappen was the benchmark in Barcelona on Friday on the important medium tires, he has already received that.
Spain GP Timetable
Third free practice: Saturday 1pm Qualifying: Saturday 4pm Race: Sunday 3pm
We are curious about your opinion about the articles of NU+ Formula 1. Click here to leave your feedback in a short five-minute questionnaire.
---