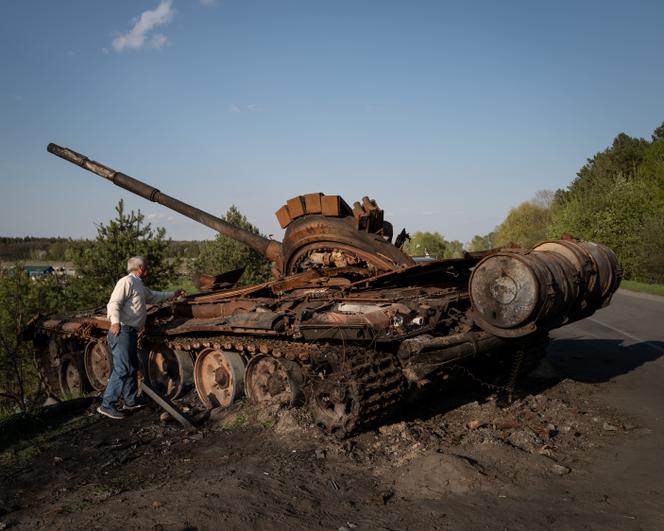 A Russian tank destroyed northeast of kyiv, May 4, 2022. LAURENCE GEAI / MYOP FOR "THE WORLD"
This is one of the many questions raised by the Ukrainian conflict: why do the Russians lose so many armored vehicles, and in particular tanks, in the fighting? Since the start of the "special operation", launched on February 24 by Vladimir Putin, nearly seven hundred tanks in the colors of the former Red Army have been put out of action, according to the specialized site Oryx, which counts the losses of each side, based on images broadcast in the media or on social networks.
A "colossal" figure, according to military experts. "Seven hundred tanks, that represents almost the entire fleet available in Western Europe", estimates Léo Péria-Peigné, researcher at the French Institute of International Relations (IFRI). And again, the level of losses is undoubtedly underestimated, since it is based only on visual evidence: the Ukrainian army claims to have destroyed one thousand three hundred Russian tanks and three thousand armored vehicles, without be possible to verify it.
Read also: Article reserved for our subscribers Isabelle Facon: "The Russian army, a fantasized military power put to the test"
Whatever the figure used, these losses represent a significant part of the Russian arsenal. According to specialists, Moscow had before invading Ukraine about three thousand battle tanks in working order, to which must be added a stock of about ten thousand more or less well maintained units. In other words, Vladimir Putin could have already lost a quarter of his available fleet. "We expected significant losses, but not of such a level", recognizes a French military source.
Design flaw
According to specialists, this haemorrhage is primarily explained by technical characteristics. Designed during the Cold War, the Russian tanks currently engaged in Ukraine, whether the T-72, the most deployed model, but also the T-80 or the T-90, more modern, but less present, have always favored a compact form. Lighter and lower than their Western counterparts – a T-80 represents half the target size of an American Abrams, for example – they are known to be very mobile during battle.
The problem? Because of their compactness, Russian tanks can only carry three crew members, compared to four in Western tanks. To replace the loader – the soldier present to insert the shells into the gun – the Soviet engineers equipped their tanks with an automatic carousel, forcing them to place the stock of ammunition directly under the turret, under the feet of the soldiers. On the American and European models, the shells are stored in the neck of the tank, outside the turret, separated from the operators by an armored wall.
You have 66.73% of this article left to read. The following is for subscribers only.
---