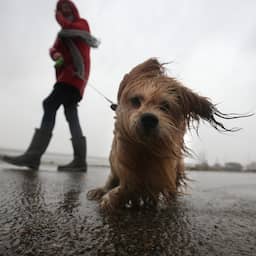 The URV dog association moved to Overvecht-Noord sports park less than three weeks ago. But whether the association can stay there is uncertain.
A majority of the city council of Utrecht wants sports alderman Rachel Streefland (ChristenUnie) to investigate whether the dog association can be given a place elsewhere in the city. The parties are responding to a cry for help from football club EDO.
With the recent arrival of URV and earlier FC Utrecht's training complex to Overvecht-Noord, EDO says it is struggling with a shortage of fields. A large number of political parties took to the football club's concerns. "It's just a bad plan," CDA councilor Bert van Steeg said in a council meeting on Thursday about the current implementation of the sports park.
According to the standards of the municipality, there is indeed sufficient space on Overvecht-Noord, according to alderman Streefland. "Clubs in Utrecht that are comparable to EDO sometimes even do it with fewer fields." The alderman called on the football association to be creative, for example by playing matches on Friday evening.
Help out
The alderman did not like a proposal from opposition party CDA to look for another location in the city for the dog association. She is confident in discussions between EDO and URV about how they can help each other. A majority of the council decided otherwise and wants the alderman to continue looking for a location outside the sports park.
The hassle surrounding the distribution of the fields in the sports park has in any case no influence on the results of EDO. The first team of the club recently became champion in the third division D. EDO therefore plays in the second division for the first time in the history of the association.
---