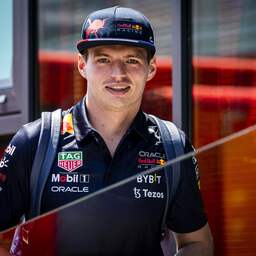 Max Verstappen is very pleased with the way Red Bull Racing is handling money in Formula 1 this season. According to the world champion, his team is working efficiently with the budget.
"We are one of the best teams in cost control and that is important because there is a budget cap. Really, there is still enough in the tank to improve the car," said Verstappen in Barcelona.
The teams in Formula 1 have a maximum of 140 million dollars (132 million euros) to spend this year on improving their cars. Red Bull has made a lot of adjustments since the first race and has therefore made up for the difference in speed with Ferrari.
Ferrari was significantly faster in the first three races of the season, but Red Bull had the upper hand in the last two races. "We are just good at correcting mistakes. But we can always do better," said Verstappen. "Increasing reliability is still our main focus.
Verstappen expects a good weekend in Spain
The 25-year-old Dutchman expects to compete at the front again in the Spanish Grand Prix. "Normally we do well here. We have a fast car that also performs well in the heat," he says.
"But of course we have to wait and see what updates other teams come up with. We'll see, I'm quite relaxed about it. It's a long season in which it will always be about the development of the car."
Ferrari has a renewed aerodynamic package in Spain that should bring the car closer to Red Bull. "I hope that at some point Red Bull will have to stop developing because of the budget cap, because we don't have the money to make adjustments for every single race," team boss Mattia Binotto told Motorsport.com.
The Formula 1 drivers will start the first free practice session in Barcelona on Friday at 2 p.m. Three hours later is the start of the second practice session. The race starts on Sunday at 3 p.m.
---