Netflix unveiled the official trailer for the upcoming Brazilian series Maldivas (2022) tonight. The mysterious yet comical series is about the mysterious death of Liz's mother. Liz didn't really know her mother well at all and decides to dive into her life in search of the truth.
Liz has just moved to Rio de Janeiro to be closer to her mother. The two have become estranged in recent years, but it's time to mend the bond. They don't get the chance: before the two have found each other, Liz's mother is killed in a fire. Liz struggles to explain her mother's sudden death and comes across a slew of wacky, unique characters in her quest. Watch the trailer below:
The lead roles in the series are played by Bruna Marquezine, Enzo Romani, Manu Gavassi, Klebber Toledo, Sheron Menezzes, Samuel Meo and Carol Castro. Maldivas was conceived and created by Brazilian filmmaker Natalia Klein.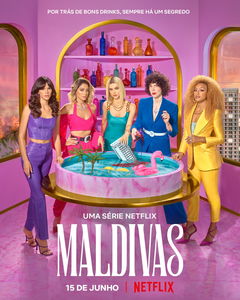 A young woman wants to investigate a mystery and moves into a luxurious apartment building where she comes into contact with the eccentric − and suspicious − residents.
All episodes of Maldivas are from June 15 to be seen on Netflix. Are you curious about what else will appear on Netflix in the near future? Here you will find our complete overview.
Image: Still 'Maldivas' via TMDb
Text: Netflix
---