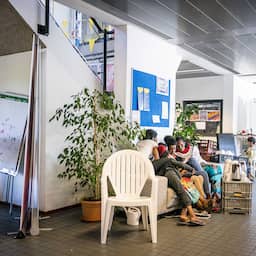 We succeeded in transporting two hundred asylum seekers in buses from the application center in Ter Apel to reception locations in Budel in Brabant and Vledder in Drenthe, a spokesperson for the Central Agency for the Reception of Asylum Seekers (COA) reported on Thursday. As a result, no people have to sleep on chairs during the night from Thursday to Friday.
In the previous night, eleven people had to sleep on chairs in the waiting area of ​​the Immigration and Naturalization Service (IND) in Ter Apel.
There would be many more at first, but the municipality of Roosendaal quickly sent a bus on Wednesday evening to pick up fifty asylum seekers. Fifty other asylum seekers for whom there was no room at the central registration location were brought to Beuningen in Gelderland.
On Thursday, after consultation, three buses came from commercial carriers and one bus via the Transport and Support Service (DV&O), which, for example, arranges the transport of detainees from the Judicial Institutions Service (DJI).
There was also consultation with Defense about the deployment of drivers and possible equipment, but this came to nothing, the Ministry of Defense said.
Recently, it has sometimes happened that refugees for whom there is no more room in Ter Apel are not able to go to another reception location, because there is no transport for them. Ter Apel has room for a maximum of two thousand asylum seekers, but the application center has been suffering from a large influx of refugees for some time.
---