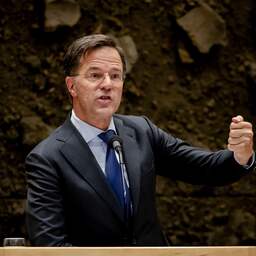 Prime Minister Mark Rutte lashed out at a number of MPs during the debate on the deleted text messages on Thursday. They accused him of deliberately hiding important information. "What could be the reason that more and more people no longer watch debates on television? Because everything starts with mistrust. With an absolutely fundamental feeling that the case is being bottled and cheated," Rutte said to the opposition.
Rutte has been deleting text messages on his phone for years and himself forwarded the most important messages to officials to archive them. His telephone, which has since been exchanged for a more modern one, cannot store many messages.
This immediately led to critical reactions from the opposition. MPs saw a pattern with Rutte that he sees "the truth as an option". They also think that Rutte withholds documents that could get him in trouble for as long as possible.
Rutte had had enough of those accusations and he showed that. "People no longer even get the chance to explain something calmly. I also hear it in the Council of Ministers. We like our job, but the debates in the House of Representatives are complicated, unpleasant and sometimes things go rogue."
Lilian Marijnissen (SP), Jesse Klaver (GroenLinks) and Geert Wilders (PVV), among others, summed up where things have gone wrong at Rutte in recent years. The dividend tax, the Teeven deal, the bombing of the Iraqi city of Hawija, the memory of the debate about the "function elsewhere" for Pieter Omtzigt. In all those cases Rutte's memory failed him. A pattern, according to these parliamentarians.
"An icon is being made that I lie. Whatever I bring up against it is no longer relevant," Rutte said. "I also defend my integrity here." He called the opposition members wanting to establish a pattern "false".
"Where does he get the guts?"
It is rare that Rutte addresses the House in this way. The Prime Minister regularly struggles through complicated and critical debates. He often verbally bends along with political opponents and knows how to keep the atmosphere good and bad as it goes, despite fierce discussions.
Rutte's scolding led to angry reactions. For example, Caroline van der Plas (BBB) ​​was speechless. "The Prime Minister gets into trouble and then it is turned in such a way that MPs ask annoying questions. Really scandalous."
"My job is to ask questions and monitor the government," said PvdA party leader Attje Kuiken. "I can't check everything now because the text messages are no longer there."
"Where does he get the guts?" SP leader Lilian Marijnissen wanted to know. "Talk to the victims of the childcare allowance and gas extraction in Groningen. Then you will hear why confidence is falling."
Rutte warns against manners
Van der Plas asked Rutte to take back his words, but the Prime Minister did not worry about that. He preferred to recall how the manners were in the time of Hans Wiegel and Joop den Uyl. "There was a discussion with trust and mutual respect. Heavy political discussions took place from the content. What I see now is that labels are being pasted such as 'you lie' and 'you are trying to twist the truth'".
Rutte is not bothered by it, he says. "I think I should have the thickest skin and I have. I love my work and I still think it's wonderful to come to the House of Representatives." Finally, he warned against a "shift of values" and of "reactions to each other".
Despite Rutte's defense, PVV leader Wilders submitted a motion of no confidence.
---