You don't have to be bored inside tonight, despite the heavy rain showers. There are a lot of new films in the cinema from today, including the intriguing Dutch horror film Moloch (2022) with Sallie Harmsen in the lead role.
The film revolves around Betriek, a woman who is suddenly attacked in her own house one evening by an unknown man. She manages to avert the attack, but is then confronted with more and more ominous events. She searches for an explanation in an ancient legend. Is there a curse on her family, and can they ever rid themselves of it?
The Dutch horror film is the feature film debut of Nico van den Brink, who is known for his short films that are often shown at film festivals. He directed the film and wrote the screenplay together with Daan Bakker. The lead role in Moloch is played by Sallie Harmsen. Alexandre Willaume, Fred Goessens, Anneke Blok, Jack Wouterse and Markoesa Hamer also play in the film.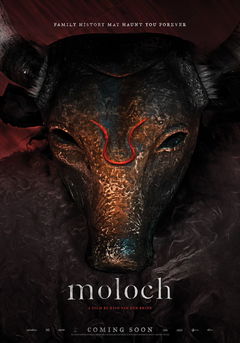 Watch on Netflix • 'Moloch' tells the story of the young Betriek (Sallie Harmsen) who lives on the edge of the peat bog. When Betriek and her family are attacked one evening by an unknown man, she looks for an explanation.
Moloch is now in cinemas nationwide. On this page you can find out where and when the film will be shown in your area. The full film agenda can be found here.
Image: Still 'Moloch' via TMDb
---