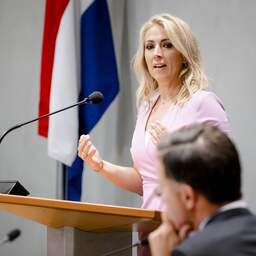 On Thursday, the House of Representatives will debate the fact that Prime Minister Mark Rutte has deleted text messages on his phone for years at his own discretion. As a result, they are no longer available when documents are requested by journalists or organizations. Many parties do not want to talk specifically about those messages, but about a pattern that they see in the Prime Minister of a lack of openness, transparency and trust.
"It's not about those stupid text messages, but about the shoddy and haggling," said PVV leader Geert Wilders in the House of Representatives.
"It's about the democratic accountability of our prime minister," said Volt's Laurens Dassen. "When it comes to transparency, the prime minister goes his own way." Dassen wants ministers to have their telephones read every week, as is done in Norway.
"It's a pattern," said GroenLinks leader Jesse Klaver. He noted that the same discussions were held around the abolition of the dividend tax, the Teeven deal, the minutes of the Council of Ministers on the childcare allowance, the bombing of the Iraqi city of Hawija and the active memory of the debate about the "function elsewhere" for Pieter Omtzigt.
SP leader Lilian Marijnissen: "This is the umpteenth debate about openness that is not there."
Coalition was milder for prime minister
The coalition reacted mildly. After some insistence, CDA MP Henri Bontenbal made a careful value judgment. "We can arrange everything in detail, but there is also such a thing as morality and virtue in government officials themselves." Furthermore, it remained with some technical questions to the prime minister.
Like Bontenbal, VVD member Ulysse Ellian first wanted to wait for Rutte's answers later in the debate, before he judged whether there was indeed a pattern of untruths.
"I oppose the idea that the Prime Minister's actions are inherently wrong, without us knowing exactly what his considerations are," Ellian said. "I don't see a liar, but I do see that things can be done differently."
Rutte thinks he adhered to the rules
The Council of State ruled in April 2019 that text messages and WhatsApp messages on business and private telephones of directors and officials fall under the Wob. This applies "if these were sent in the context of the work", according to the administrative judge at the time.
Rutte emphasized that he has adhered to this. He forwarded text messages "important for administrative decision-making" to his employees, who saved the messages.
Rutte read, paraphrased or passed on long messages that could not be forwarded to his staff.
The rules regarding the preservation of chat messages within the government state that the sender or recipient of the messages is ultimately responsible for their preservation.
"Because I forward messages that I considered important for administrative decision-making or send them in cc to the most involved employee, I did not have to keep these messages myself," Rutte said yesterday. He believed that he had followed the rules.
---