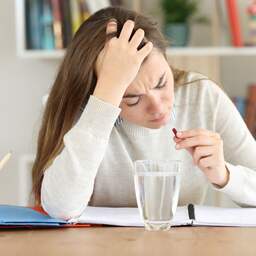 0 comments
May 18, 2022 at 9:43 PM
The exams have started again and that means hard blocks for many students. Some students turn to so-called 'study pills' that are said to make learning easier. But what is in such a pill? And how does it work exactly?
By Sarah Sitanala
The range of 'study pills' is diverse. Not only are more and more companies bringing such pills to the market, they are also simply available at the drugstore. The pills are said to ensure optimal concentration and have a calming effect. "It varies a lot what kind of substances are in those 'study pills'," says Iris Groenenberg, expert nutrition and health at the Nutrition Center.
"We don't have a list of all the available pills and the different substances they contain. The specific vitamins they contain also vary. For example, you see B vitamins, such as vitamin B6, in some pills."
According to the Nutrition Center, after a round of googling you will soon come across a 'study pill' that contains 10 milligrams of vitamin B6. "While the recommended amount for young people is 1.5 mg. Taking too much vitamin B6 for a long time can pose risks like numbness, tingling and severe nerve pain in the hands and feet."
You will not learn better
Almost all pills contain caffeine. "Caffeine ensures that you can stay awake longer," says Toine Pieters, professor of Pharmaceutical Sciences at Utrecht University. "If you started learning too late, it gives you the opportunity to continue learning for longer, but that doesn't mean you will learn better."
Taking too much vitamin B6 for a long time can carry risks such as numbness, tingling and severe nerve pain in the hands and feet.
Iris Groenenberg, nutrition and health expert
A small amount of caffeine can relieve fatigue and improve concentration, but you can quickly take too much. And how much is too much varies from person to person. "The Nutrition Center advises young people between the ages of thirteen and eighteen to drink no more than one cup of coffee or energy drink per day," says Groenenberg. "Certainly in combination with a 'study pill', this can quickly provide a fairly high dose of caffeine."
Amount of caffeine in 'study pills' difficult to measure
In addition, according to Pieters, it is difficult to measure the amount of caffeine in 'study pills'. "And taking it on your own because you don't feel the desired effects quickly enough can lead to unpleasant side effects." These can manifest themselves in a restless feeling, palpitations, anxiety, sleeping problems and headaches.
There is no such thing as a pill that will help you learn better, at the most it will keep you awake longer.
Toine Pieters, professor of Pharmaceutical Sciences
In addition to caffeine and vitamins, herbs such as L-theanine, Rhodiola rosea and ashwagandha may also be added. Scientific research shows that the substance L-theanine has a calming and stimulating effect on mice. This effect has not yet been demonstrated in humans. So it won't do much for your concentration arc. Furthermore, you also get the vitamins and herbs that are added to a 'study pill' by eating healthy.
"So don't be fooled," Pieters warns. "There is no pill that will help you learn better, at the most it will keep you awake longer. Try to keep up with the lesson material, so that you don't need stimulants at the last minute to stomp as much lesson material as possible in a short time "A pill like that doesn't make you smarter. It's better to drink a cup of strong coffee instead."
Unfortunately this content cannot be displayedWe do not have permission for the necessary cookies. Please accept the cookies to view this content.Change cookie settings 0 comments
Image: Getty Images
---