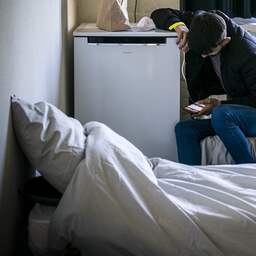 The municipality of Roosendaal receives fifty asylum seekers who would otherwise have to spend the next night on a chair in Ter Apel. This was reported by the Central Agency for the Reception of Asylum Seekers (COA) on Wednesday evening. It is not clear whether this means that all other asylum seekers in Ter Apel have a bed.
There is no more room in the reception location in the Groningen village, the COA said earlier in the day. Also, there were no buses available to take them to crisis emergency shelters elsewhere in the country.
Due to problems on the track in the north of the Netherlands, extra buses were already in use. There are also many buses on the way with school trips, the COA was told. As a result, dozens of asylum seekers threatened to spend the night in a chair in the waiting room of the Immigration and Naturalization Service (IND).
Roosendaal has now sent a bus to the far north on his own initiative. "If we had had buses available earlier in the day, they would have moved to Roosendaal sooner," assures a COA spokesperson.
Beuningen in Gelderland also receives fifty other asylum seekers from Ter Apel in an emergency reception location.
The reception location in Ter Apel, which has room for two thousand asylum seekers, has often had to sound the alarm lately due to capacity shortages. For example, last week people had to sleep outside for some time, because there was no more room. Those people were eventually also allowed to spend the night in the waiting areas of the center.
---