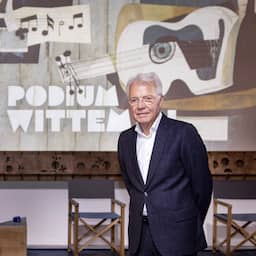 This year, the Honorary Silver Nipkow disc goes to program maker, journalist and presenter Paul Witteman. The jury decided that because of his entire oeuvre, which also has "a golden edge". The 75-year-old Witteman said goodbye to his TV program Podium Witteman on Sunday.
In 1998, Witteman received the 'regular' Silver Nipkow disc. The jury report at the time stated: "Paul Witteman will go down in television history as a program maker who left his mark on the information sector like no other in the 1990s. He was and is not only an excellent presenter, but also an intelligent interviewer, who ventures into the most difficult areas with apparent ease."
'Podium Witteman is one of the most popular music programs'
This year's jury concludes that Witteman's reputation still stands and has now even been broadened by "his achievement to have built one of the most popular music programs of the Dutch broadcaster with Podium Witteman. An oeuvre that deserves an Ere Zilveren Nipkow disk, with a gold rim".
The Honorary Silver Nipkow Disc will be awarded on June 16 during the sixtieth anniversary edition of the event. Last year the prize went to Het Sinterklaasjournaal of the NTR. Matthijs van Nieuwkerk, Jeroen Pauw, André van Duin, Sonja Barend and the VPRO program Zomergasten are among the previous winners of the prize.
This is The Voice of BOOS, The year of Fortuyn and My father the fortune seeker contenders Silver Nipkow disk
This is The Voice of the online BNNVARA program BOOS with Tim Hofman has a chance to win the Silver Nipkow disk this year. The AVROTROS drama series The Year of Fortuyn and the VPRO documentary My father the fortune seeker by Nadia Moussaid are also in the running for the oldest television prize in the Netherlands.
The Silver Nipkow disc is intended for the best TV program or the best TV maker, which was broadcast between 1 May and 30 April prior to the award ceremony. Last year the prize went to the current affairs program Nieuwsuur (NOS/NTR).
---