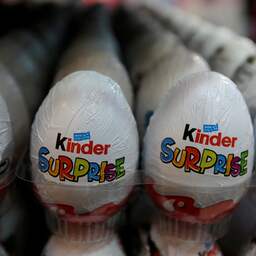 The number of Dutch salmonella infections that can be traced to the chocolate products in the Belgian Ferrero factory has risen from two to three, the European health service ECDC announced on Wednesday. So far, 324 infections have been identified in twelve European countries as a result of this outbreak.
More than 40 percent of the sick were hospitalized because of an infection. Most infections occurred in children under the age of ten.
RIVM previously announced that it had received two reports about children who had become ill in February due to the salmonella bacteria. According to ECDC, the number of infections has now risen to three.
In the Netherlands, Kinder Surprise eggs and other Kinder brand products were taken off the shelves in April. Consumers are advised not to eat the chocolate products.
United Kingdom was the first country to report
In February, the United Kingdom reported the first salmonella infections. Some cases dated back to December. The infections appeared to have the same origin, which caused the country to sound the alarm. There are now 102 confirmed infections in the United Kingdom. France has reported 73 infections.
Manufacturer Ferrero found the salmonella bacteria in an installation in February. After a cleaning, the follow-up tests were negative and production was resumed, the ECDC reported earlier. The factory had to close in April by order of the Belgian health service.
---