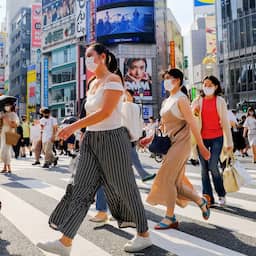 Japan's economy shrank by 0.2 percent in the first quarter of this year compared to the last quarter of 2021. This made the downturn less strong than expected, as economists expected a 0.4 percent decline on average.
The world's third-largest economy faced headwinds in the first quarter due to weaker trade, high energy prices and restrictive measures against the omikron variant of the coronavirus.
In the last quarter of 2021, the Japanese economy grew by a revised 0.9 percent.
Due to the war in Ukraine, the Asian country has to pay much more for the import of energy and raw materials. In addition, trade is disrupted by, among other things, global problems in supply chains.
Japanese consumers also spent less money because of the measures to contain the omikron variant. That also had an inhibitory effect.
---