Amy Adams is back as Giselle in Disenchanted (2022), the sequel to the feel-good movie Enchanted (2007). Disney+ today unveils a first taste of the adventure comedy.
The Andalusian has a brand new look with a dark blue dress with peacock elements. Next to her we see Maya Rudolph, who plays the villain in the sequel. She takes over from Susan Sarandon who played the evil Queen Narisse in the 2007 original. The new villain is Malvina Monroe, the woman who oversees a new neighborhood where Giselle and her family are moving. Her evil intentions throw a spanner in the works…
The sequel is set 15 years after the original, and Roberts (Patrick Dempsey) daughter, Morgan, is now a teenager. Giselle and the family move to the suburb of Monroeville, where Malvina presents a new challenge. In addition to Adams and Dempsey, James Marsden and Idina Menzel also return for the sequel.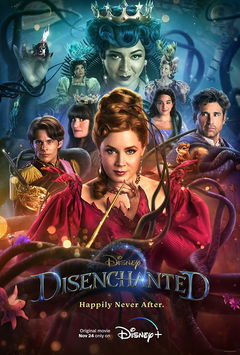 Watch Disney+ • Ten years after her 'happily ever after', Giselle wonders if she's really happy anymore. In her search for the answer, she unintentionally turns the lives of people in Andalasia and in the real world upside down.
Disenchanted will be available on Disney+ over Thanksgiving weekend, which is around November 24. For a complete overview of all the new movies and series coming soon to the streaming service, please visit our Soon on Disney+ page.
Image: Still 'Enchanted' via TMDb
---