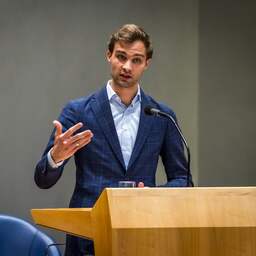 Youth care needs a major overhaul. This is apparent from a 31-page letter that State Secretary Maarten van Ooijen (Youth Care) sent to the House of Representatives at the end of last week. Today he will discuss it with parliament. What does the government want to change?
There are all "wrong incentives in the system", Van Ooijen wrote to the House. "We have to get rid of that."
One such wrong incentive, according to the minister, is that "more and more money, time and energy are being spent on lighter forms of aid, while we all desperately need it to take better care of the most vulnerable children."
The change of course does not happen overnight and does not come from Van Ooijen alone: ​​it is based on several studies, reports and advice. It mainly builds on the advice of the so-called Committee of Wise Men.
That advice from June last year states, among other things, that municipalities must receive an extra 1.9 billion euros from the government to better implement youth care. Youth care also needs to be overhauled to make the youth care system better and more sustainable, also in the long term.
What is youth care?
Youth care is a collective term for youth care, youth protection and youth rehabilitation. Youth help is help for children with psychological problems or an intellectual disability. Child support also falls under youth care. Child protection is always imposed by a juvenile court and is forcibly deployed when the safe and healthy development of a child is at risk. An out-of-home placement is, for example, a youth protection measure. Juvenile probation can be imposed if a young person has come into contact with the police.
The fact that sustainability is under pressure is a result of, among other things, the increased use of youth care. In 2021, 1 in 7 young people received some form of youth care, according to figures from Statistics Netherlands. In 2015 it was 1 in 10 and in 1997 about 1 in 27.
"Children and young people who have to deal with the most complex problems and young people with a lifelong and life-wide disability or condition often seem to receive the least help," says Van Ooijen. "They risk getting bogged down in a system in which light aid flourishes."
Despite the problems, more and more money is going to healthcare. "Untenable", writes Van Ooijen, and so he comes up with his so-called "five guiding principles":
Take care of the most vulnerable
Young people with complex problems and young people who have a lifelong disability or condition are sent from pillar to post, writes Van Ooijen. This concerns, for example, young people with an eating disorder, a chronic condition or a youth protection measure. They often end up on waiting lists or do not receive the right help.
"This is, for example, because insufficient correct care has been purchased for them or because parties do not cooperate sufficiently with each other to arrive at a good solution for them," writes Van Ooijen. He therefore argues for more control from the government.
Reducing unnecessary use of youth care
'Ordinary' behavior is less likely to be seen as 'normal' these days. This leads to "unnecessary appeal to youth care", Van Ooijen writes.
It must therefore become clearer what is and what is not covered by youth care. The cabinet wants to "tighten this".
Less market forces
"In youth care, it should be about helping children, not about maximizing profit", Van Ooijen writes to substantiate his plea for less market forces.
"Perverse incentives" such as unnecessary use of youth care and too long treatment duration must be removed. The cabinet therefore wants a maximum on profits and stricter rules when purchasing healthcare.
It is also not always clear what works in youth care and existing knowledge is not used enough. Therefore, care "proven to be ineffective" is excluded. Treatments whose effectiveness has not been proven are under further investigation.
A so-called 'quartermaster' must map this out.
Also attention to poverty
The cause of children's problems often lies in poor housing, debt, poverty, addiction problems or an intellectual disability of the parents, or relationship problems between parents.

"Youth care is not always the right answer to questions from families," Van Ooijen writes. That is why attention is also paid to the problems of poverty.
---