Breaking Bad star Bryan Cranston has landed his next role: the lead role in Jerry and Marge Go Large (2022). In the first trailer of the true drama film, we see how he and his wife win the lottery.
However, the lottery win was not entirely coincidental. Jerry Selbee (Cranston) found a mathematical loophole and won millions. Together with his wife Marge (Annette Bening), he hopes to use the jackpot to breathe new life into their small town in Michigan.
Watch the trailer for Jerry and Marge Go Large here:
The true film is directed by Oscar winner David Frankel, the man behind Marley & Me (2008). In addition to Craston and Bening, the other lead roles are played by Larry Wilmore, Rainn Wilson, Anna Camp and Ann Harada.
Jerry and Marge Go Large will be released in the US as early as June on the US streaming service Paramount+. That service is not yet available in the Netherlands, but content from Paramount+ will be available to us later this year via the new streaming service SkyShowtime.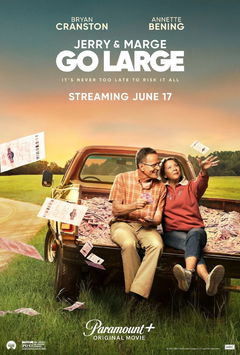 Jerry and Marge Go Large (2022)
Based on a true story about married couple Jerry and Marge Selbee, who won the lottery and used the money to revive their small town.
Image: Still 'Jerry and Marge Go Large' via Paramount+
---