The Sorrowvirus is a first-person narrative game. A real walking sim published by Eastasiasoft. We have asked community member DM4S to write a review on behalf of XBNL. You can read his review here:
Eastasiasoft is a name you've probably heard a lot of lately. They are releasing Indie games at a rapid pace. One of their latest releases is The Sorrowvirus: A Faceless Short Story. This game is part of five small short stories that ultimately serve as a background story for the upcoming game Faceless. What does the game have to offer? First of all a short story, as the title implies.
In this first short story you play Wyatt Heyll. A young man who has been affected by various ailments, cancer and diseases from an early age. When Wyatt is on the brink of death, his parents administer a paranormal substance to him. This substance ensures that he does not end up in the afterlife but in purgatory: a place where the soul can heal and come back to life. There are also drawbacks to this 'procedure'. One of those drawbacks is that Wyatt will die a little faster each time. But there is also good news. Your parents are looking for a medicine harvested from purgatory that will ultimately save your character. It's up to you as a player, in this narrative walking sim, to save Wyatt from this never-ending torment.
The world is nicely decorated and ensures that you will not quickly run through the game. The lore of the game is told through documents and radios that you come across and give a nice insight into the overarching story. Voices are credibly recorded and so the various radios you find are interesting to listen to.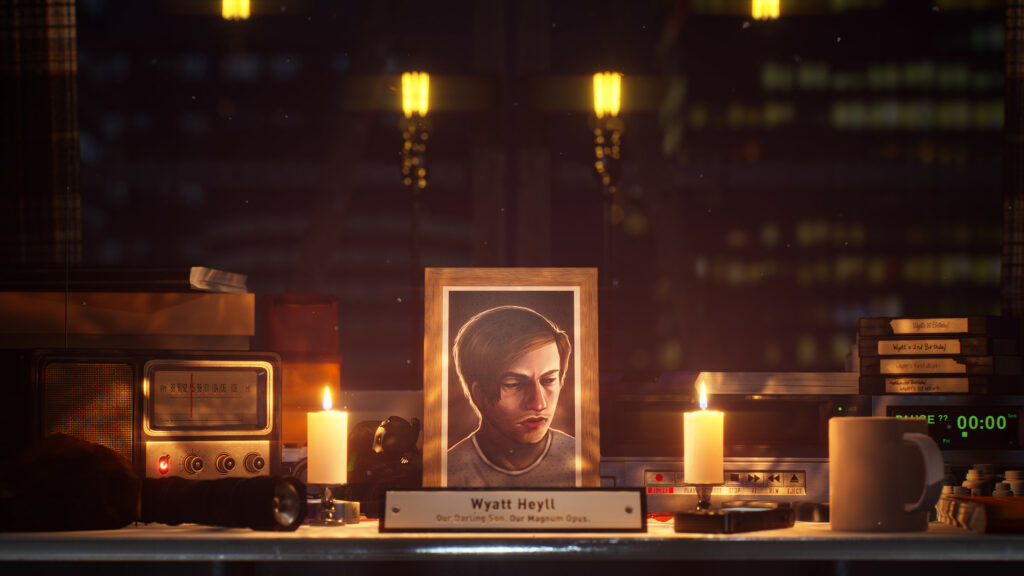 Again?
Every time you make it to the end, the game will start over and you'll go through the exact same path again, but the documents and radios you come across will contain new lyrics. Here and there you will see small changes. Unfortunately, despite the lore being interesting enough, I found it to get monotonous quickly. The texts change very little and you will also experience the levels you walk through as almost the same. You can't save your game in the meantime (you just start from scratch every time you start the game) and you will soon get the feeling: 'Do I really have to go through this again?'.
Fortunately, a play session is not very long and you will be busy for around 45 to 60 minutes at a time. It is therefore a nice game to pick up quickly in between. Although the story is all pretty well put together, I did have a lot of performance issues on the Xbox One. Parts of the world were sometimes not loaded or very slowly, resulting in black holes. I have not been able to check whether the Xbox Series X|S has as much trouble as its aging brother.
Achievements
If we take a look at the achievements, it's what you can expect from a walking sim. There are achievements for playing through the game multiple times and a single secret room or object to find. If you do some good detective work you can get most achievements in about 3 to 4 hours.
Conclusion
Overall I look back on a nice experience. The story is captivating and is narrated by good voice actors. The world is also beautifully decorated. However, I think it's a shame that there isn't more change in the world between the various playthroughs. I should have done more with this, so that every time you cross purgatory a new experience would arise. But, with a playing time of 45 to 60 minutes, it is a nice game to quickly play a session in between. Unfortunately, the game does have a hefty price tag of 15 euros. A bit too much of a good thing for me.
---