In Hawkeye (2021), we were introduced to Echo, also known as Maya Lopez, the deaf Native American superhero. She will soon be getting her own series, Echo, of which Marvel has just revealed the first official photo.
Echo is super strong and has the power that she can perfectly imitate someone, including someone's complex fighting techniques. This makes her a strong opponent in any battle. In the Marvel comic books, she meets characters such as Daredevil, Moon Knight, and the Avengers.
The photo shows Alaqua Cox reprising her role as the deaf Marvel character. Not much more is clear from this photo, except that the truck she's on is the same one in the Trust a Bro Moving Company's Hawkeye. So she still works with this in Echo.
The shooting of the new Marvel series started last April. Recently, Moon Knight (2021-2022) was released in the same Marvel universe and very soon Ms. Marvel (2022) on Disney+.
Echo will be released on Disney+ in 2023, an exact release date has not yet been announced. Want to stay informed about a release date? Create an account on our website, add Echo to your watch list and automatically stay informed of the latest news.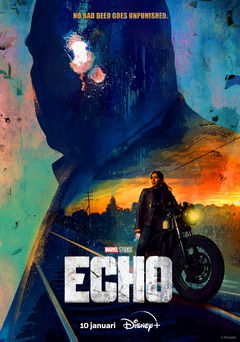 Check out Disney+ • A spin-off of 'Hawkeye' about Echo, the deaf Native American superhero played by Alaqua Cox.
Image: Still 'Hawkeye' via Disney/Marvel Studios
---