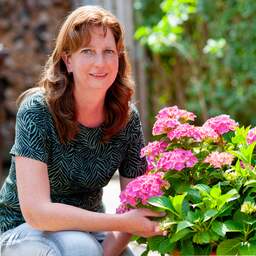 Lookalikes, snake milkers, mattress testers and Netflix subtitles. In this section we interview people with a non-standard answer to the standard question: What do you actually do? This time Mariken Schenkeveld, natural pest controller.
Who: Mariken Schenkeveld What: Has a business in natural pest control and advises growers and companies How: For example, she sells ladybugs that eat aphids or nematodes that make slugs sick.
Mariken Schenkeveld has several refrigerators at home full of insects and other small animals. She is an entrepreneur in natural pest control, which means she is busy with all kinds of critters all day long. For example, she advises growers on how to combat aphids with ladybugs. "Organic horticulture is the future," she says. "And luckily we are already a frontrunner here in the Netherlands."
Horticulture is not a new world for Schenkeveld: as a teenager she already worked in greenhouses in her spare time. She found it very pleasant and it aroused her interest in floriculture.
After HAVO, Schenkeveld went to a higher horticultural school. She got her first job at a company specializing in natural pest control, and that is how she came into contact with the world in which she now runs her own company.
Animals between the meat and the milk
When she first started her own business, the pest control bugs were in her own kitchen refrigerator. But with her first earned money she bought a professional cooling system: "That was a bit fresher for my meat products and milk", she says with a smile.
Now it is really hard to get into her business in the spring and summer. Three times a week new animals are brought to her by courier. Most go directly, fresh to the customer. There is a stock in the refrigerator.
"The ladybug will continue to eat whether the louse is resistant or not."
Mariken Schenkeveld
Her customers are large companies, but also private individuals. She has enough work, but according to Schenkeveld more attention should be paid to natural control. "It's good for people and the environment," she says. "It's time for the poison to be completely removed from the shelves!" According to her, not every pest needs to be combated: "A slug in the garden is fine. It only becomes annoying if you have lettuce and it is constantly eaten."
Clone of the mother
Schenkeveld is endlessly fascinated by how the natural world works, and how everything is actually very well organized. "Nature is beautifully put together," she explains. "Take an aphid. These give birth to a huge number of offspring, which are actually all clones of the mother."
"With products from organic horticulture, there can sometimes be a louse or a misshapen leaf."
Mariken Schenkeveld
That is precisely the reason why chemical pesticides do not work well against aphids in the long run: "If the mother is resistant to the agent, all her offspring and their offspring are too. Because they are genetic clones. With biological control you have no worries about that."
According to Schenkeveld, consumers increasingly want unsprayed products from organic cultivation, but for many it is also getting used to the fact that nature cannot be made. "People – and especially shopkeepers – want unsprayed fruit and vegetables, but at the same time a smooth, perfectly round shiny apple. But with products from organic horticulture there can sometimes be a louse or a misshapen leaf in your product."
We do not have permission for the necessary cookies. Please accept the cookies to view this content.
---