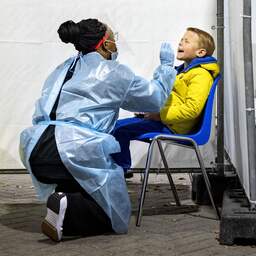 In the past week, less than ten thousand positive corona tests were taken for the first time since July last year, according to the weekly report of the RIVM.
RIVM has registered 8,372 positive tests in the past week. The number of positive tests has already crept towards 10,000 in recent weeks. A week ago, the weekly total was 10,007, in the weeks before it was almost 10,600 and more than 16,000.
The number of hospital admissions also continued to fall. In the past week, 215 people with corona were hospitalized, 172 of them specifically as a result of a corona infection. There were 17 corona patients in the intensive care units, 11 of them as a direct result of their infection.
13,152 people went to the test street last week, up from 15,465 the week before. A week earlier, 16,130 tests were taken. At the end of March, more than 300,000 people were tested. Last month, the official advice to have a positive self-test confirmed at the GGD expired.
The number of reported deaths has also fallen. In the past week, the RIVM reported 16 people who had died as a result of their infection. A week earlier there were 19.
The reproduction number, which indicates how quickly the coronavirus is spreading, has decreased to 0.89. That means that a group of one hundred people with corona infects an average of 89 others. Last Tuesday, the reproduction number was 0.95.
---