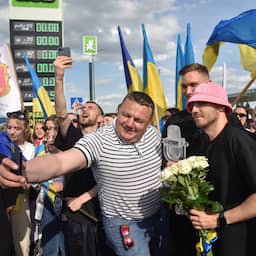 The Ukrainian Kalush Orchestra was enthusiastically welcomed at the border with Poland on Monday. Singer Oleh Psiuk was given a bouquet of yellow and blue flowers – the colors of the Ukrainian flag. After reuniting with his girlfriend, he and his band played an impromptu version of "Stefania", their winning song.
"Eurovision is important, especially this year. But the lives of so many people – that's much more important," Psiuk said at the border. The band wants to sell the Eurovision trophy to raise money for Ukraine's fight against Russia. Psiuk hopes to raise hundreds of thousands of dollars.
"There are people who are really willing to donate. This is just to motivate them a bit more – they can have this trophy. Someone might think it's cool to have a statue of the Eurovision 2022 winner at home," he said.
Bookmakers had clearly marked Kalush Orchestra as the winner of the annual song contest, partly thanks to the wide sympathy for Ukraine after the invasion of Russia in February.
"Stefania" – a Ukrainian-sung tribute to Psiuk's mother, which fuses rap with traditional folk music – took fourth place after the vote by the national juries, but stormed to first place thanks to a record score during the second stage of the viewer's vote.
---