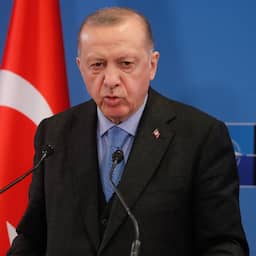 Turkey does not intend to approve Sweden and Finland's possible accession to NATO, Turkish President Recep Tayyip Erdogan said.
Sweden announced on Monday that it would officially submit a request for membership. Finland is expected to announce Tuesday, after which the countries will jointly submit their application later this week.
In order to ratify the membership of Sweden and Finland, it is necessary that all thirty current members unanimously approve it. Turkey, which has been a member of the Western military alliance since 1952, can thus oppose on its own.
Erdogan already said last week that he was "not positive" about a possible NATO membership of Sweden and Finland. Turkey accuses those countries of hosting the Kurdistan Workers' Party (PKK). Turkey and the European Union consider that party a terrorist organisation.
According to Erdogan, the PKK is mainly recruiting new recruits in Sweden. He described both countries as "host houses for terrorist organizations".
Swedish and Finnish diplomacy pointless according to Turkey
Sweden announced on Monday that it would send diplomats to Turkey to discuss possible NATO membership. Defense Secretary Peter Hultqvist said diplomats want to resolve the issue and "see what this is really about".
However, Erdogan says that both Swedish and Finnish delegations can save themselves that effort as long as the countries offer shelter to "terrorists" in his view.
NATO chief Jens Stoltenberg is confident he can allay Turkey's concerns. The Secretary General does not expect Sweden and Finland's NATO membership to be delayed.
---