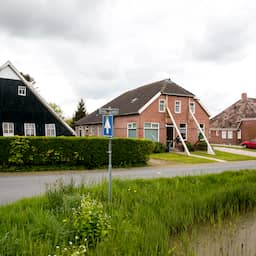 For one case of earthquake damage in Groningen, it must be re-examined whether prosecution by the Nederlandse Aardolie Maatschappij (NAM) is still an issue, the Leeuwarden Court of Appeal ruled on Tuesday. The Public Prosecution Service (OM) said last year that there was too little evidence for prosecution, but the court does not fully agree.
In most cases the court recognizes that there is indeed too little evidence to prosecute, but in one individual case there is a suspicion of a criminal offense. "In principle, this suspicion justifies that the defendant should answer to the criminal court for this," the court stated in the ruling.
This means that an investigation must be carried out and that it will be reconsidered later whether prosecution is appropriate.
In March last year, the Public Prosecution Service said it would not prosecute NAM, after interest group Groninger Soil Movement and some individual complainants had requested it. According to the judiciary, no evidence had been found that residents in North Groningen were in danger of life as a result of the gas extraction. According to the Public Prosecution Service, there was also no evidence of intentional criminally culpable acts.
The Public Prosecution Service had requested permission from the Court of Appeal for this, which therefore did not fully agree with the reasoning.
---