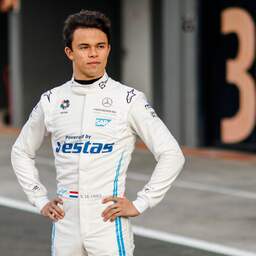 Nyck de Vries will join the Williams team this weekend during the Grand Prix of Spain to drive the first free practice. The Dutch Formula E champion takes over the car from Alexander Albon.
De Vries, who won the Formula E race in Berlin last Sunday with a Mercedes, will therefore be in action for the first time during a Grand Prix weekend in Formula 1. He previously tested in a Mercedes, for which he was the regular driver. reserve driver.
The test for De Vries comes amid increasing rumors that Nicholas Latifi is in danger of losing his seat. The Canadian has underperformed this season and Williams has become less dependent on the multi-million dollar Latifi brings. De Vries seems to be the first candidate to take over his position within the team.
Like other teams, Williams has to have a 'rookie' tested twice a season, and with this test by De Vries partly meets that obligation. Despite the mediocre start of 2022 for the remainder, Albon already managed to finish in the points twice.
'Great opportunity to get to know the car'
"It's a great opportunity for me to get to know the team and the car," said De Vries. "In addition, it is of course nice to show myself on track during a Formula 1 weekend."
The Frisian driver says Williams is preparing him very well for free practice. "I'm really looking forward to the whole experience in Spain next weekend."
De Vries was already a contender for a seat at Williams last winter, but in the end had to let Albon go first. After the current Formula E season, the Dutchman is free to get into anything regardless of his reserve obligations at Mercedes. Mercedes will stop participating in the electric racing class after 2022.
---