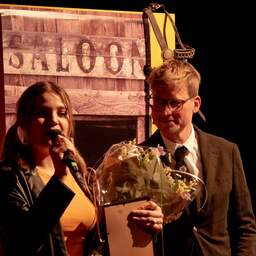 Last Thursday, the winners of the Cine Challenge 2022, the Groningen prize for best short film, were announced. In the category Best Film, the film WTF is Live by students Art & Multimedia of the Noorderpoort won.
During a livestream talk show hosted by Bram Douwes, the winners in the categories Best Film, Best Cinematography, Best Actor and Best Editing were announced by the professional jury led by Yotka Kroeze. This year's theme was Western, after the first edition had Film noir as the theme last year.
First-year students Ivar Berends, Noa Zilverberg, Ruth Ohaezukosi and Danique Vorstenberg of Kunst & Multimedia van het Noorderpoort won in the category Best Film with WTF is Live. The jury described the film as a committed poetic film poem. The makers receive a film credit of 500 euros.
Frank Boxman won the prize for Best Cinematography with the animated film Wasted Cowboys. The prize for the best actor went to Antonie Ooms for the role of the bad one in Western Kwartier and Sylvain Bergs won the extra jury prize for Best Editing for Redcup Rumble.
In general, the jury spoke of an edition with a catchy visual language, originality in content and technique, credibility and the right dose of Groningen perspective. In short, a great second edition of this short film competition.
---