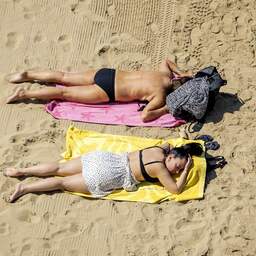 The sunny and warm weather on Sunday will largely continue next week, Weerplaza says. Wednesday and Thursday it will probably even be warm in the summer. The start and end of the week will be a bit more changeable: the east of the country will have to deal with heavy thunderstorms on Monday.
A low pressure area will lead to showers during the day on Monday. These migrate from the southwest to the northeast of the country. In the east of the country, the showers can be accompanied by strong thunderstorms, gusts of wind and hail. The KNMI has therefore issued a code yellow for the provinces of Overijssel, Gelderland, North Brabant and Limburg.
In the second half of the afternoon the showers will move out of the country via the northeast. The mercury rises to 23 to 26 degrees on Monday.
After the showers on Monday it will probably remain dry for a few days. Tuesday will also be quite warm, but slightly cooler than Monday. A westerly wind ensures that temperatures remain at 20 to 25 degrees.
Temperatures drop after hot summer days
Wednesday and Thursday it will be warm on a large scale. This is due to the wind that turns south to southeast. This wind brings heat with it, so that temperatures in the south and east can rise to 28 or 29 degrees.
Some cumulus clouds may form during Thursday. There could possibly be some rain or a thunderstorm. It can feel a bit sweltering with a temperature of 25 degrees.
Friday can still be a very warm day, but on Saturday the temperatures will drop again and it will be around 20 degrees.
---