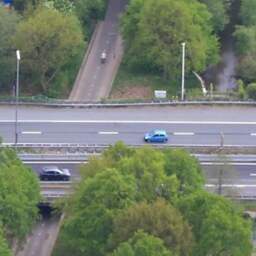 The Piccardthoftunnel, which runs under the southern ring road, will be closed to cyclists and pedestrians from Monday 16 May 07:00 to Friday 8 July 17:00. Traffic will be diverted via Laan Corpus den Hoorn or via Hoogkerk.
Cyclists and pedestrians have two alternatives during the closures: via the roundabouts at Laan Corpus den Hoorn and the other way via the underpass at Hoogkerk. At the roundabouts at Laan Corpus den Hoorn, traffic controllers are deployed at the busiest times to help cyclists cross the slip road.
The tunnel will be open again during the summer holidays. After that it is necessary to close the tunnel for a second period. The work will start at the end of August or the beginning of September and will last until the beginning of November.
The South Ring Approach project also includes the widening of the ring road between Vrijheidsplein and Hoogkerk. The Piccardthoftunnel runs under this part of the ring road, near the campsite in the Stadspark. The tunnel will be renovated and widened and must then be closed.
---