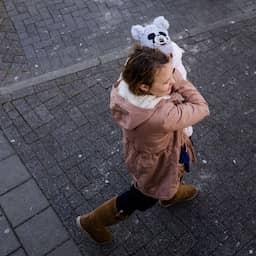 So far, 161 Ukrainian refugees have been placed with 73 guest households through the organization RefugeeHomeNL. A spokesperson for the Red Cross, who speaks on behalf of RefugeeHomeNL, informs NU.nl when asked. Despite a "large supply" of more than ten thousand families and limited demand from Ukrainians, the organization says the number is not disappointing.
Ukrainian refugees in the Netherlands are mainly received by municipalities, but they can also be linked to a host household. That is what RefugeeHomeNL, which consists of the Salvation Army, the Red Cross, VluchtelingenWerk Nederland, NLvoorelkaar and Takecarebnb.
So far, some 32,300 host households have registered with the aid organisations, of which 10,400 have been found suitable after a matching procedure.
Since the start of the project in March, 161 Ukrainians have been housed in Dutch households. This is happening in pilot projects in the Amsterdam, Eindhoven and Rotterdam regions. In some cases they are placed separately with a host household, but for example mothers with children are placed together with a family or household.
'The approach is: if necessary, we are ready'
However, the demand for placement is still limited. "That in itself is a pleasant position for us," says the spokesperson, who emphasizes that there is a lot involved in placing such a large number of people. "The more people who are willing, the better. If large numbers of refugees come forward, you can at least link them."
That is not to say that it is disappointing that few people use it. "The approach has been there from the start: if necessary, we are ready."
The pilots are mainly intended to learn lessons for the eventual national roll-out of private reception, she continues. To do this, the organization wants to place refugees with about 140 families. "We think that's a good number to be able to say something about it in general. Then we know whether it makes sense to approach the reception in this way."
---